Products from "La Reserva de la Biosfera Mariñas Coruñesas e Terras do Mandeo".
The Organismo Autónomo Parques Nacionales has registered a trademark applicable to products and services Reserves of the Spanish Biosphere, in order to promote quality economies that contribute to improving the living conditions of the population of reserves and  strengthen the commitment of this with the purposes of the reserve
.
The application of the trademark shall be governed by a regulation which is under development. Managers of the council of the Spanish Network of Biosphere Reserves will play a very important role in ensuring that mechanisms brand protection are rigorous and effective.
Patata Kennebec Bolsa 3Kg (Producto de la Reserva de la Biosfera "Mariñas Coruñesas e Terras Do Mandeo")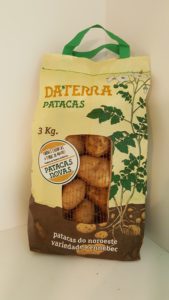 GTIN: 8437009152010
Patatas de consumo nuevas
Variedad: Kennebec
Categoría I
Calibre 45 – 80 mm
País de origen: España
Lugar de procedencia: Galicia
Peso neto: 3.000 gramos
Pataca Granel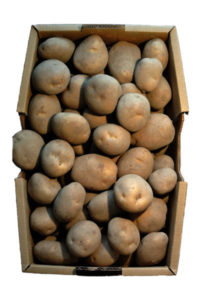 GTIN: 8437009152058
Patatas de consumo nuevas
Variedad: Kennebec
Categoría I
Calibre 50+ mm
País de origen: España
Lugar de procedencia: Galicia
Pataca de asar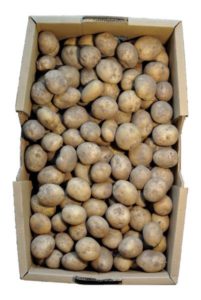 GTIN: 8437009152065
Patatas de consumo nuevas
Variedad: Kennebec
Categoría I
Calibre 50+ mm
País de origen: España
Lugar de procedencia: Galicia
Pataca Kennebec Pelada y envasada al vacio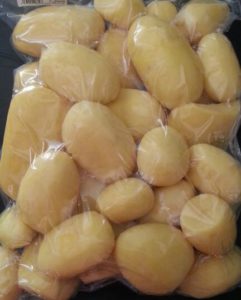 Patatas de consumo nuevas
Variedad: Kennebec
Categoría I
Calibre 50+ mm
País de origen: España
Lugar de procedencia: Galicia
Peso neto: 5 Kg
Conservación: 10 días